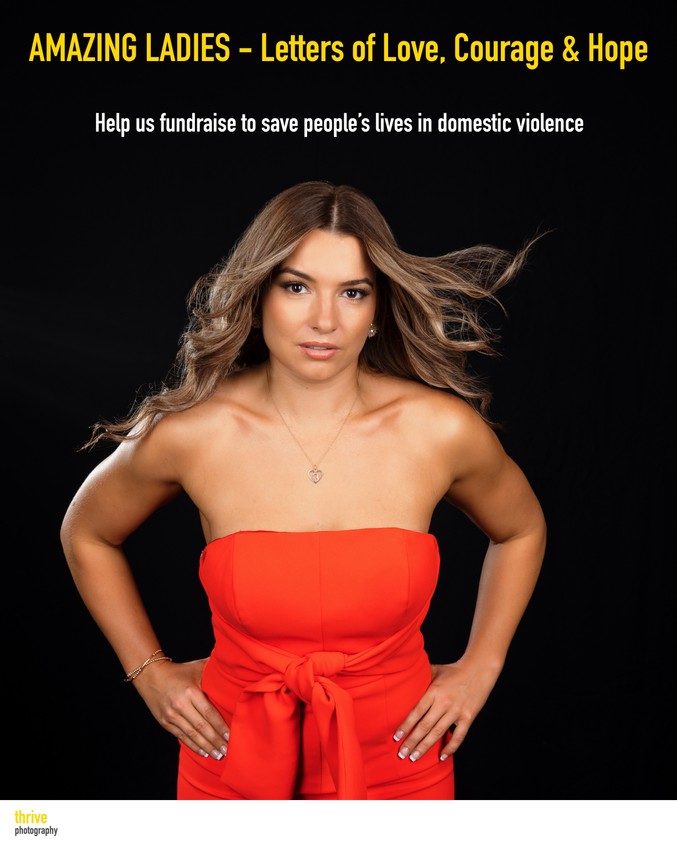 LADIES WANTED!!
Thrive Photography is looking for amazing ladies to feature in our limited edition, hard-cover coffee table book, "AMAZING LADIES - Letters of Love Courage & Hope". This could literally be anyone as long as you are over the age of 18.
Only 100 ladies will be chosen and featured.
Our fundraising coffee table book "Amazing Ladies" aims to raise money for the truly remarkable charity "DV Safe Phone". We will also raise awareness and make an ACTUAL difference to the over 2 million ladies, men and children who suffer from domestic violence in Australia.
Successful applicants will enjoy a luxury portrait session with Thrive Photography! Ladies will get to choose their favourite photo to be featured in the book, along with the option to purchase printed Photographic Artwork for their personalised session.
HOW IT WORKS
👉 Step 1 - Apply
Submit your application below
To beincluded in the coffee table book, simply requires the completion of the application form below. Application window is open until XXXX, 2022, or until we have all 100 ladies.
***Your studio session may be after this date, but you just have to have contacted us and submitted your application by XXX 2022.
👉 Step 2 - Your Discovery Call
One of our wonderful Zoo Studio team members will be in contact to discuss your application, answer any questions and discover more about YOU, why you want to help and learn what style of portraiture you are interested in whether it be beauty, boudoir or glamour.
👉Step 3 - Booking your Personalized Photography Experience
Successful applications will pay the $165 registration fee and select a date for their personalized portrait photography experience with Thrive Photography which DV Safe Phone will directly benefit
👉Step 4 – Your Photography Experience
You get to enjoy a personalized Thrive Photography Experience specifically for you that capture in photographs, the absolute best version of what is uniquely "you".❤️
👉Step 5 – Ordering & Design Consultation Consultation
You will have your very own Ordering & Design Consultation. This is what I always call the second fun part of your Thrive Photography Experience… This is is where all the hard work and preparation has been leading! Your portraits will be presented to you in a cinematic presentation. Here, you will get to select your favourite photo for the coffee table book and together, we will design timeless aertwork collections for you to be proudly display throughout your home, to be treasured for many years to come.



APPLICATION DETAILS

If selected, the applicants will pay a $165.00 Registration Fee



The Registration Fee includes:





A personalized Thrive Photography Studio Experience for you and your pet at our Sunshine Coast studio.
A double-page spread in our coffee table book, "AMAZING LADIES - Letters of Love Courage & Hope"
The opportunity to select the photo for the Coffee Table Book
$100 of the registration fee is donated to PTSD Dogs Australia and the remaining $65 is used toward the printing of the book

Printed Photographic Artwork is not included with the registration fee and may be purchased separately at your personal Ordering and Design Consultation. The published book is not included in the registration fee and will be available for purchase during your Design Consultation for $150.
👇 Complete the registration
below to submit your application 👇