Volume Business Headshots


Photographing the team for their business cards, email signature, LinkedIn or Bio on the website is quite different from if were to do a branding session for an advertising campaign, book launch, CD cover or something similar. We are not spending a whole morning crafting images with multiple wardrobe changes and with a hair and makeup team. We are simply looking for a good professional headshot that you will love and represents your brand.
So with this in mind here is summary of how I go about photographing headshots for a business.
What to Expect from me
Timeliness
I understand that everyone is busy and while having a headshot done is a necessity, nobody wants to spend hours doing it. I also truly understand that many people detest having their photo taken. With that in mind I work very efficiently and get them done as economically as possible and make the session as enjoyable as I can. If it is just one photo per person is the goal, I can pose you, light you and have the image selected in under 15 minutes per person.
Real Time Review
To make the whole session as seamless as possible I photograph synchronised to an iPad or computer. What this means is that the cameras that I use have the ability to connect wirelessly to a computer or mobile device. As I shoot, the images come up for review on the iPad. This means we can select the image on the spot.
In addition to ensuring you get a photo you actually want it saves you a tonne of time on the backend. This means that whoever has been assigned to manage the headshot project for your organisation does not need to get involved with the image selection after the session. Traditionally the way it worked was, the images we're uploaded to a gallery, everyone had to look at them and pick what they wanted. Then that information was relayed back to the photographer. This could drag out forever, made it easy for miscommunication and the person overseeing the project would have a lot of time wasted bringing the project to completion.
Professionalism
I used to work in the business world when I was in IT. I am experienced in how to conduct myself in a professional environment. That is not to say it will be boring. I get many compliments that I am good to work with. I do understand that no matter how big or small a business is that it is always about people. I will treat everyone with the courtesy and respect that they deserve and not be "that guy" that you wish you had never let in the building.
What I need in advance
A clear space to photograph
As much space as possible is preferred but not critical. About 4 meters or more is preferred so that I can utilise the optimal lens for portraiture. My setup is very economical by design and I can fit just about anywhere. A boardroom is good, a decent sized lunchroom or even an undercover car park will work. I do not require power, so I can go anywhere.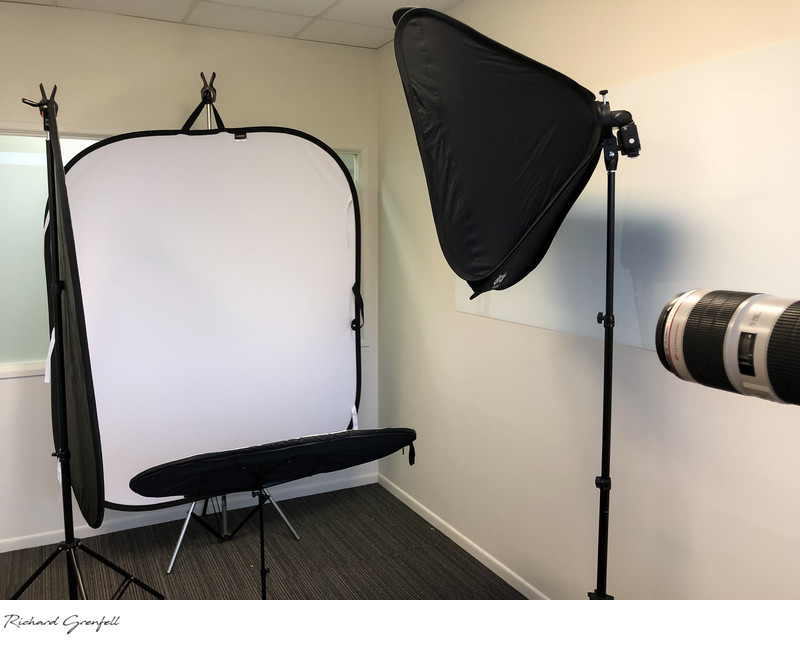 This is my portable minimal headshot setup. This is in meeting room at a law firm.
Your intent
I need to know in advance what persona you are trying to convey as it will dictate how I run the session. For example:
A Law firm that specialises in litigation probably wants to convey a brand of serious professionalism that will fight for you! In this case a fun-loving vibe with big smiley faces probably does not match the look that they would want. Good for a party planner maybe but not a litigator.
In the case of a sales team you might want a look that is professional but approachable and friendly as opposed to super serious or combative.
Or in my case when I market myself as a wedding photographer, I want to come across as reliable, likeable and fun.
It all gets down to how you want the team to be perceived and it is achieved through posing, lighting and head positioning.
Repeatability
Do you have a workforce that changes often? If so we need to consider that the look that we want to achieve can be done at anytime as new people enter the team. That way you do not need to photograph the team all over again for a uniform look. If this is the case, I would suggest that we keep it simple with solid colours as backgrounds rather than in front of the building or the garden at a particular time of day. White backgrounds are probably the easiest plus it blends in seamlessly into web pages and email.
Any questions? Please do not hesitate to CONTACT ME