Suggestions and what to expect for a successful Engagement Photo Session
Where should we have it?
On the Sunshine Coast and South East Queensland in general the main three options are :
1) Beach
2) Parks
3) Urban.
As far as beaches go there are a few that I personally really like for photographic reasons. Point Cartwright which is near Mooloolaba is really really nice. Plus you can bring your dog if you want. Mooloolaba is great away from the main beach. It is really nice with the rocks and beautiful trees just up from the sand. Happy Valley in Caloundra offers a lot of visual variety. Some of the areas around Noosa are just gorgeous. We are lucky to live here. People come from all over the world to visit Queensland.
There are some really nice parks to consider. Maroochy Botanical Gardens is outstanding, Kondalilia National Park is just incredible.
My suggestion would be to keep it simple. Choose a location that resonates with you as a couple.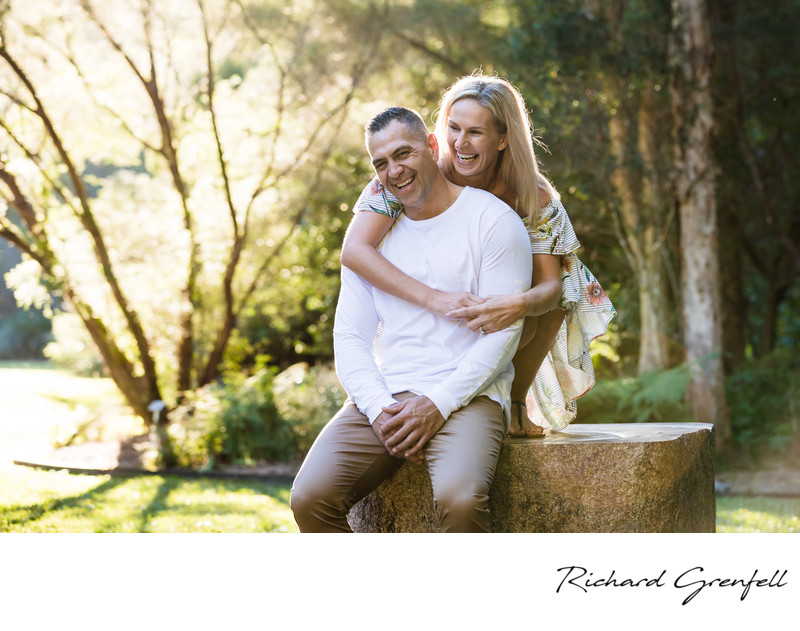 Taken at Maroochy Botanical Gardens.
Suggestions
1. Please ensure you get there on time. This is mainly because of the timing with the light. If a session starts late we might run out of light and that will mean we may not get the photos we want. My main goal is to get beautiful, timeless and fun photos and the right light is the key here.
2. Ladies Clothing. The main thing is to choose clothes you feel comfortable and beautiful in. A good guideline would be to choose something you would wear to a wedding as a guest. If you are not a ballroom gown type then that may not be a great idea. In my opinion it is important to look and feel like yourself but at your best. In regard to colours as a couple, look at complimentary colours but do not mirror each other. With matching colours you do not see separation in the photos as easily as you tend to blend in to each other.
Neutral or Cool monotone colours usually photograph well. Darker colours like navy blue, dark grey etc work well in any situation... you can not go wrong. I find red and green do not work that well outdoors a lot of the time as they clash with the environment photographically . Keep in mind that it is you that we want to be the main focus of the photograph and if you are wearing a super vibrant outfit it can take away from that and potentially clash with the environment you are in. If you do wish to do an outfit change I would suggest just keeping it to two changes. Take into account if it is actually possible to do a wardrobe change based on the location.
3. Mens Clothing. Same again. A good guide is to choose something you would wear to a wedding. It is best to avoid stripy & busy patterns for shirts. Also avoid T-shirts with logos and large text on them such as Star Wars, Harley Davidson etc.
Ever notice that TV presenters are always in single colour shirts? That is not an accident. The reason is that single colour shirts look good on camera.
4. Hair and Makeup. This is a personal decision and I do not have strong feelings either way. It really depends on what look you want. My goal is always primarily for people to be comfortable. If we are doing it outdoors just be mindful that it might be windy and can mess with carefully crafted hairstyles. So it is worth taking that into consideration in your planning.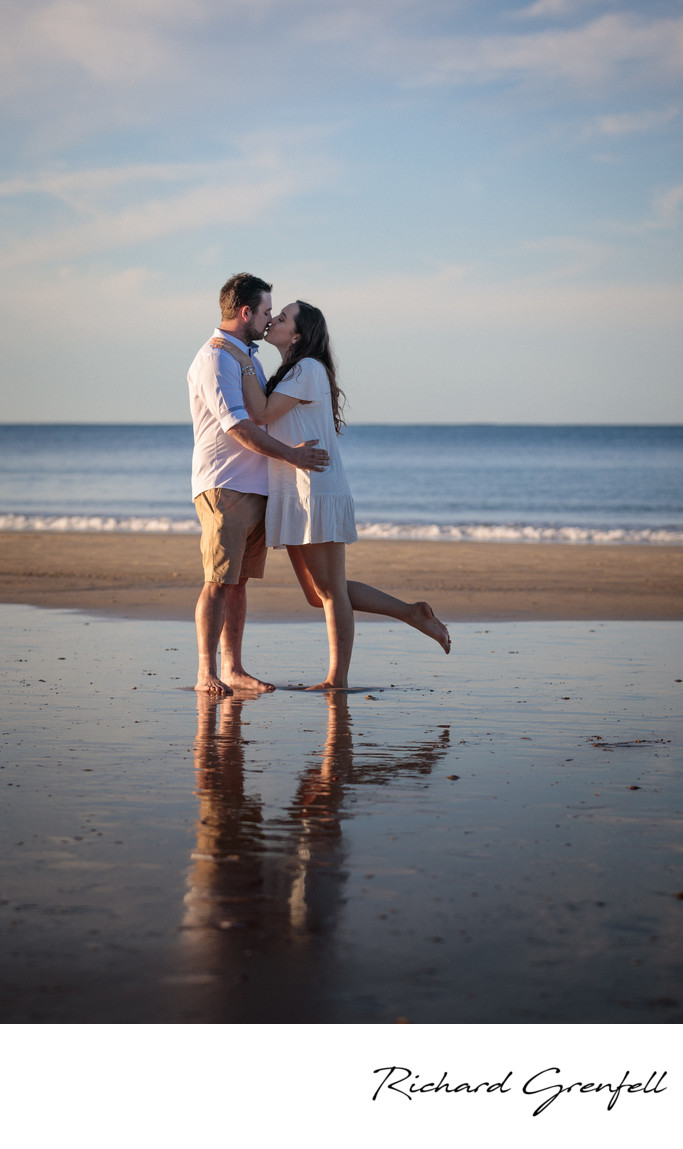 Mooloolaba Beach
What to expect
My goal is always for it to be a fun experience and a good chance to get comfortable in front of the camera before the wedding. You really will get much better wedding photographs after having had an engagement session. I am repeating myself but I want you to get natural unforced timeless beautiful photos that you will treasure for years. I understand that the majority of my clients have never done any modelling and it can be a daunting experience having a camera pointed at you for an hour or two. With this in mind I will not force you into weird fashion poses and endeavour to keep the session moving in a fun and easy manner.
I am to move around in different locations for variety. Also, If you are agreeable I like to get some nice standard portraits that your parents will like.
See you soon.
Engagement Photography - Tips and Info