🐶 WANTED: Dogs & their Humans 🐶

We are looking for five dogs with their humans to be photographed in our studio environment.
We want to go beyond just taking pretty pictures and capture the personality of your fur baby and your connection … whatever that may be
We get that your fur baby is more than "just a pet". You love and care for them just as you would a son or a daughter. When you see your friends they always ask after your dog/s because they know how much he or she means to you. We want to go beyond the obvious. We want to create those special moments that are unique to you and your fur baby..... whatever that may happen to be. 😊
The five that are chosen will receive a gift certificate that covers the session fee and the balance can be used towards purchasing artwork for you to display in your home or office 🙂
👇APPLY HERE👇
---
What others are saying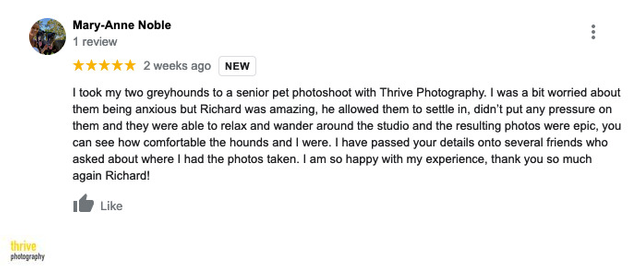 ☝️ APPLY ABOVE 👆
FAQ's
Can you tell me more about the gift certificate?

The gift certificate is for $300.00. This covers the $150.00 session fee and the balance can be put towards artwork.

Full details are on the actual certificate when you receive it via Australia Post.
Where is your studio?
The photography sessions will take place at our new photography studio located in the Sunshine Coast hinterland about 10 minutes off the Bruce Highway near Palmwoods. ***Please note*** if you are familiar with Thrive Photography and wondering why we are in a new location... it is because of growth and necessity. We relocated from Brisbane Road in Mooloolaba to a brand new purpose-built studio to better improve our client's photography experience.

When?
We are looking at completing this in the next six weeks. Our Studio is open Monday to Friday from 8.30 to 5.30 and other times by appointment.
Do I have to pay anything to book my session?

While your session is covered with the gift certificate, we do ask for a $99 confirmation fee to hold your session date/time. Your $99 confirmation fee will be refunded to you if you decide to not purchase anything. If you do purchase any artwork from your session we will use the $99 as a credit towards your order.
Will you help me prepare for the photography experience and is your studio dog safe/friendly?
Yes indeed. We will guide you from start to finish with wardrobe, makeup etc and provide you with the best photography experience. We take great care of your fur baby. They can not run on a road and also there are areas for them to go to the toilet or a walk if required.

☝️ APPLY ABOVE 👆