Fine Art Printing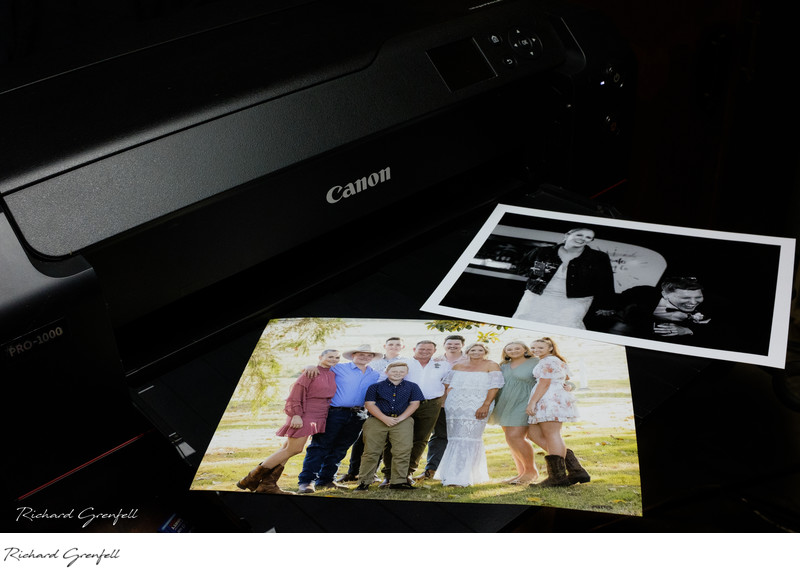 My printer with two A4 size Prints.
I love printing. To me it is the final step in the process and brings it all to completion. I really enjoy seeing photos come to life on paper and holding a tangible item. I love the look on my clients faces when I hand them wedding, family or portrait photos as a gallery quality print. It is a revelation for many people. Especially these days when photos live on phones and computers.
I use a Canon Pro-1000 printer that will print as large as A2 ( poster size 42cm x 60 cm) and use fine art papers by various manufacturers depending on what look I am looking for.
So what is Fine Art printing?
Without getting too geeky I will give you the highlights.
Archival. According to the Canon printing expert I chatted to, Fine Art Prints will last 100 to 200 years. Provided you keep it out of the sun and look after it. This has not been tested yet but I will take his word for it.
Paper Choice. This is the biggest benefit. You can choose from many papers and brands. You can have a matte, semi gloss, high gloss and metallic with variations of those paper. The paper can be thicker and more substantial and be textured for different looks.
Quality. They look better than retail printing from places like Office Works. The detail and quality is just beautiful.
They just look awesome. You know when you see something that is just quality?? That's what fine art prints are like. You don't know what it is exactly but you know it is good. I am like that with old furniture. I am completely clueless about furniture making but I know good quality when I see it.
Choosing Paper
I choose paper based on the image. So say I have a very soft gentle photograph that has a painterly look to it. In this case I will generally choose Photo Rag paper.
Say it is a very bright dynamic photo I might choose a high gloss image or possibly a metallic paper so that it really pops and shows all the details. I think the photo dictates the paper choice.
Editing the photo for print
This probably sounds odd but I will further edit selected images for the style of print. This is because the way the paper accepts the ink can make it look very different to what you are seeing on your screen.
Why bother with gallery quality printing?
I am prejudiced as I love excellent prints but here are my thoughts. The main thing is they last for generations. At my mums place there is a family photo she got a photographer to create about 25 years ago. It is framed and large and in charge in the dining room and it still looks as good as the day she got it. We are all young and healthy in that photo. Sadly not everyone is still with us so it is worth even more now. It is literally becoming a family heirloom.
Having photos displayed in the home is an interesting thing. You see them every day and honestly they become part of your life. People who visit always comment and you end up having conversations that usually start with something like ..."Look how young you are there " :)
Also they look better on paper than on a screen.They just do. I have an Apple iMac with a calibrated 5K screen and the photos always look better in print. I believe this is because a screen is backlit throwing the image at you whereas a printed photograph relies on the light hitting it for you to see it.
Final comment
I am not suggesting you get the 700 wedding photos I supplied printed as fine art prints. That's would be a bit overkill. I would pick out the ones that mean the most to you. I do suggest however getting the majority printed on 6x4s for the purpose of having them "backed up". Huh? I hear you ask. Please read my article about this HERE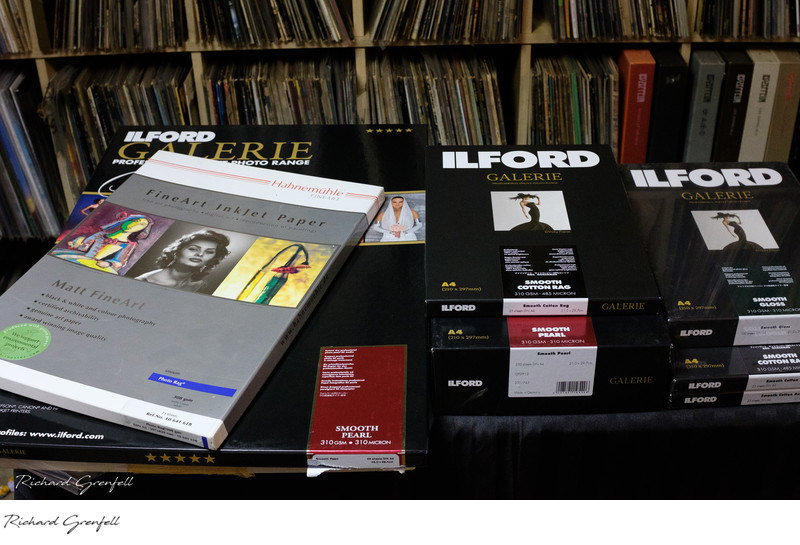 Some of the papers I use for printing.